Excessive Noise from Vehicles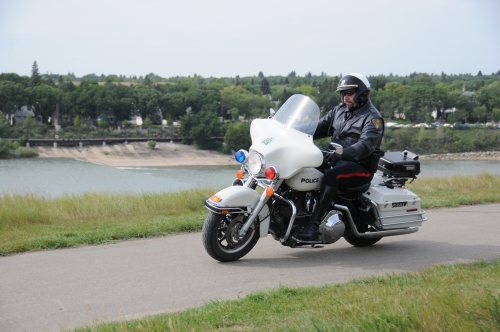 Saskatoon, like other cities throughout the country, has been receiving repeated complaints about excessive vehicle noise. As a result, Saskatoon Bylaw 8244, The Noise Bylaw has been amended and the bylaw now includes specific legislation dealing with excessive vehicle and motorcycle exhaust noise in Section 5.1, 5.2 and 5.3. It provides authority to police officers to test a motor vehicle for sound using a sound level meter which meets applicable standards.
Beginning August 15, 2014 the Saskatoon Police Service will be conducting free noise level testing clinics through October to help motorcycle owners determine whether their bikes are compliant the Noise Bylaw. The noise testing clinics provide a great opportunity for motorcycle owners to have their bikes checked for excessive noise emission, and to learn how to bring them up to industry and community standards. Motorcycles off the assembly line already meet the industry standard for acceptable noise levels. Problems occur when owners modify their motorcycles with loud exhaust systems and citizens complain about the excessive noise.
Motorcycle noise testing, education and enforcement are part of the SPS response to citizen concerns regarding excessive noise and its impact on quality of life. An amnesty period will be in effect for the duration of the 2014 motorcycling season and police will focus on educational enforcement with respect to the maximum decibel levels of 92 dB(A) at idle speed and 96dB(A) above idle speed. The Saskatoon Police Traffic Unit has purchased five sirometers, two sound meters and one anemometer and will proceed with the process of conducting noise meter field testing during the amnesty period.
Motorcyclists are invited to attend the free SPS Motorcycle Excessive Noise Level Testing Clinic to learn more and have their bikes' noise emissions checked. These clinics are meant to be informative and educational. There will be no charges or written warnings issued, nor will there be any formal documentation of the process. There is no fear of repercussion of any kind in relation to this bylaw during the 'testing clinics' phase of the implementation process.