Saskatoon Police are releasing a surveillance image in hopes of identifying three suspects involved in a bear spray incident earlier this week.
The image was captured on surveillance cameras inside a theatre in the 300 block of 2nd Avenue South. It shows two males and one female suspect who appear to be in their teens. The first male is seen wearing a grey t-shirt, grey shorts and black shoes. He is carrying a grey hat and has a buzz-cut hairstyle. The second male is wearing a black ball cap a red bandanna and dark pants. The female is wearing a plaid jacket and blue jeans.
On August 20, 2013, at approximately 11:55 p.m., Saskatoon Police were called to a reported disturbance at the theatre. Witnesses reported that three individuals had entered the threatre while a movie was showing, and deployed bear spray. Seven people were treated for the effects of bear spray at the scene. There were more than 150 people watching the movie at the time of the incident.
Anyone with information on the incident or the identity of the suspects, is asked to contact the Saskatoon Police Service at 306-975-8300 or Crime Stoppers at 1-800-222-8477.
(Occurrence Number: 13-78205)
ATTACHMENT: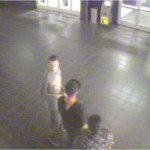 (Click to view full size)