Saskatoon Police are releasing an image captured on video outside a garage fire overnight.
At approximately 2:50 a.m., August 27, 2013, emergency crews were dispatched to the blaze outside a garage in the 1000 block of Avenue K South. Fire crews quickly extinguished the blaze and determined it was intentionally set.
The image comes from surveillance video at the home and shows suspicious activity near the garage at the time of the fire. In the video a light coloured mini-van is shown stopping outside the garage. A male driver gets out of the vehicle and spreads what appears to be accelerant outside the garage. He throws a lit rag which ignites the blaze and is then seen driving away.
The man is described as 5'9" in height, 250-275 lbs, with dark hair. He was wearing a long sleeved shirt at the time.
An image from the surveillance video is attached. The video will be posted to saskatoonpoliceservice.ca.
Anyone with information is asked to contact the Saskatoon Police Service at 306-975-8300 or Crime Stoppers at 1-800-222-8477.
(Occurrence Number: 13-80103)
ATTACHMENT: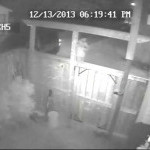 (Click to view full size)