The Saskatoon Police Service is requesting public assistance in identifying a person of interest in a sexual assault investigation. Investigators are releasing a photo of the man after all other attempts to follow leads in the case, including DNA identification, have been unsuccessful.
On January 10, 2013, Police were contacted by the victim, a woman who was 22 years old at the time of the offence. She reported that at approximately 1:45 a.m. on January 10, 2013 she accepted a ride from two men in the parking lot of a bar 1300 block of 8th Street East. Once inside the car one of the men sexually and physically assaulted her. She was dropped off at approximately 3:30 a.m. near the Hampton Village area and walked to her home.
The victim recalls a blue vehicle. The driver and passenger are described as men of middle eastern descent, both in their 20's. The person of interest is described as clean-shaven, with short dark hair. He was wearing a blue t-shirt with white print, and jeans. He is also seen wearing a white and grey or black hoodie.
Anyone with information on this incident, or the person in the surveillance photo is asked to contact the Saskatoon Police Service at 306-975-8300 or Crime Stoppers at 1-800-222-8477.
(Occurrence Number: 13-3442)
ATTACHMENT: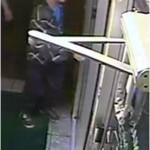 (Click to view full size)