The Saskatoon Police Service, Major Crime Unit is requesting the public's assistance in identifying persons of interest relating to a homicide in May.
On May 27, 2014, shortly after midnight, officers were dispatched to an apartment block in the 100 block of 25th Street West in response to several reports of gunshots. A search of the area by responding officers resulted in the victim, identified as Linda Clark, being located fatally shot outside of the apartment building.
The subsequent investigation by the Major Crime Unit has determined that these persons of interest may have information that would assist the investigation however their current whereabouts are unknown. An image of the three is attached for distribution.
The Saskatoon Police Service is asking anyone who can identify these individuals to please contact the SPS at 306-975-8300 or Crime Stoppers at 1-800-222-8477.
(Occurrence Number: 14-46552)
ATTACHMENT: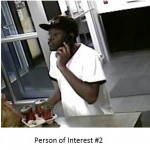 (Click to view full size)