Saskatoon Police are requesting public assistance in identifying persons of interest in the theft of two musical instruments recently.
Police were called to the business in the 700 block of 43rd Street East on October 27,2014. Staff had noticed two saxophones were missing. They reviewed surveillance video which showed thefts occurring on October 24, 2014, at approximately 4:20 p.m.
The video shows a male entering the store first. He is described as 45-55 years of age, Caucasian, with grey hair. He was wearing a black shirt, black pants, a 3/4 length overcoat and dark rimmed glasses. Once in the store he removed his overcoat, hid a saxophone underneath and left the premises.
About 10 minutes later, two people are shown entering the store. A Caucasian male, described as late 20's, 275-300 lbs, wearing a white Ecko sweatshirt, shorts and a dark ball cap. The woman is described as Caucasian, late 20's - early 30's, 140 to 150 lbs, with reddish brown hair. She was wearing a white sweater and blue jeans.
Just moments after that a fourth person enters the store. He is described as a male in his early to mid 20's with a light brown beard. He was wearing a dark coloured hoodie with grey stripes, and the hood up, a black t-shirt, black jeans, sunglasses and a black ball cap. The video shows him removing a saxophone from the wall, hiding it under his hoodie and leaving the store. While this is going on the two others have positioned themselves between staff and the man in the hoodie.
The stolen saxophones are described as Selmer brand, Paris series 3, alto saxophones.
Photos of three persons of interest are attached for distribution. Anyone with information is asked to contact the Saskatoon Police Service at 306-975-8300.
(Occurrence Number: 14-102332)
ATTACHMENT: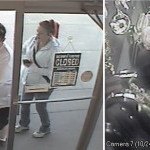 (Click to view full size)