Saskatoon Police are releasing a composite sketch of a person suspected of breaking in to an apartment in the City Park neighbourhood in July.
Between 11:30 p.m., July 13, 2015, and 1:30 a.m., July 14, 2015, an unknown male entered an apartment in the City Park neighbourhood. The occupants, a man and woman, were sleeping at the time. When they woke, the unknown male fled the scene.
The suspect is described as a Caucasian male in his mid to late 40's. He is approximately 5'10" in height and 220 lbs with an average build. He has grey and black hair, with a receding hair line and a 'brush cut' style. The man also has a goatee. A clothing description is not available.
The sketch is attached for distribution.
From the investigation, Police believe there may have been witnesses to suspicious persons or activity in the area preceding the date of the event and are asking anyone who has information to contact Police at 306-975-8300 or Crime Stoppers at 1-800-222-8477.
(Occurrence Number: 15-66828)
ATTACHMENT: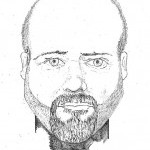 (Click to view full size)