Saskatoon Police have identified one of the suspects involved in the armed robbery of a convenience store on April 11, 2016.
The male suspect is facing charges of armed robbery. At this time investigators are attempting to locate and arrest him. Police are also releasing surveillance images of the three other suspects involved, in hopes the public can assist in identifying them. The images show the identified male suspect, armed with a gun, threatening a store employee, along with two other males, and one female suspect.
The armed robbery occurred at approximately 7:15 p.m., April 11, 2016, at a convenience store in the 800 block of 29th Street West. The four suspects entered the store, threatened the employee with the handgun, and fled with an undisclosed amount of money. Visit Saskatoon Police on Facebook for additional images.
Anyone with information on the robbery or the identities of the suspects is asked to contact the Saskatoon Police Service at 306-975-8300 or Crime Stoppers at 1-800-222-8477.
(Occurrence Number: 16-33376)
ATTACHMENT: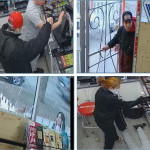 (Click to view full size)