Saskatoon Police are requesting public assistance in locating a 15 year old boy.
Liam Johnson, 15, was last seen on August 12, 2016. Police have been unable to locate Liam since that time.
He is described as an Indigenous male, 5'11" in height, 150 lbs, with brown eyes and brown hair. He was last seen wearing a black shorts and black t-shirt, riding an older style bike.
Anyone with information on the whereabouts of Liam Johnson is asked to contact Saskatoon Police at 306-975-8300 or Crime Stoppers at 1-800-222-8477.
For more information on safety, support and prevention, visit missingkids.ca.
(Occurrence Number: 80368)
ATTACHMENT: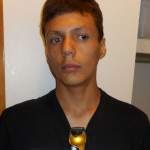 (Click to view full size)