Further to Media Release 2016-0641 issued earlier today, please find attached a photograph of Riel Morin. The t-shirt Riel is wearing in the photo with the picture on the front is the same t-shirt he was wearing when last seen early Friday morning.
Riel Morin was reported missing from a hospital in the 1700 block of 20th Street West at 3:50 am , September 2nd.
Riel is described as Indigenous, 4'8" in height, 80 lbs, with a slim build. He has short brown hair, brown eyes and medium complexion.
He was last seen wearing a black baseball hat, black pants and black runners.
Anyone with information on the whereabouts of Riel Morin is asked to contact the Saskatoon Police Service at 306-975-8300 or Crime Stoppers at 1-800-222-8477.
(Occurrence Number: 16-88034)
ATTACHMENT: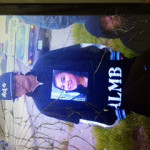 (Click to view full size)