Saskatoon Police are requesting public assistance in locating a 90 year old Saskatoon resident.
Peter Frehlich was reported missing by family. He was last scene at a business in the 300 block of 22nd Street West at approximately 3:30 p.m. on October 5th. Mr. Frehlich is described as being approximately 5'8" and 150 pounds. He is believed to be wearing a blue shirt, dark blue pants with a black leather jacket and a black "driver's" style cap. He typically walks with a cane. He is believed to be operating a 1998 Brown/Beige Toyota Camry bearing SK licence plate 731GTM. Mr. Frehlich requires medication that he is not believed to be in possession of.
Please see the attached photo of Mr. Frehlich.
Anyone with information on the whereabouts of Peter Frehlich is asked to contact Saskatoon Police at 306-975-8300.
(Occurrence Number: 16-97544)
ATTACHMENT: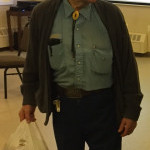 (Click to view full size)