Saskatoon Police are requesting public assistance in locating two missing youth.
Roddy Nault, 16 years of age, was last seen at approximately 7:00 p.m. November 22, 2016, in the area of Circle Drive and Faithfull Avenue. He is described as 5'3" in height, 100 lbs, with brown eyes, brown hair and a scar on his forehead.
Jadrah Jimmy, 12 years of age, was last seen in the 400 block of Witney Avenue South, at approximately 8:00 p.m., November 25, 2016. She is described as 5'4" in height, 100 lbs, with shoulder length black hair and brown eyes. She was last seen wearing black sweatpants and a black sweatshirt.
It is believed Roddy Nault and Jadrah Jimmy are together. Their photographs are attached for distribution.
Anyone with information regarding their whereabouts is asked to contact the Saskatoon Police Service at 306-975-8300 or Crime Stoppers at 1-800-222-8477.
(Occurrence Number: 16-118323)
ATTACHMENT: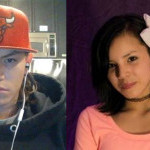 (Click to view full size)