Saskatoon Police are responding to a fourth call of a suspicious package at a hotel in the 600 block of Cynthia Street.
Police are also releasing an image of the person that may have information on these incidents. He is described as being 40-45 years-old, wearing green camo pants, black or dark-coloured hiking boots, a black hoodie and may possibly be wearing a ball cap.
There haven't been any reported injuries as a result of these incidents.
Members of Saskatoon Fire Hazmat, MD Ambulance and SPS Patrol Units remain at the scenes. Traffic restrictions are in place at various locations, We ask the public to avoid the areas, and to follow directions from Police.
More information will be released as it becomes available.
Anyone with information on these incidents is asked to call Saskatoon Police at 306-975-8300 or Crime Stoppers at 1-800-222-8477.
ATTACHMENT: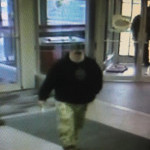 (Click to view full size)