Saskatoon Police Service are requesting for the public's assistance in locating a missing person.
Missing since 11:30am on Friday 2nd December 2016 from the 400 block of 5th Avenue North, Saskatoon, is 74 year old Stjepan (Steve) Kerestes.
He is described as Caucasian in appearance, 6 foot 5 inches tall, 200 lbs, white hair, white beard, hazel eyes, fair complexion with a scar on the left side of his head. He has breathing problems and has a hole in his esophagus. He was last seen clothed with a dark blue jacket, white shirt, black hat with white stripes, jeans and black/red DC shoes.
A photograph of Mr Kerestes has been attached to the media release.
Anyone with information on his whereabouts is asked to contact the Saskatoon Police Service at 306-975-8300 or Crime Stoppers at 1-800-222-8477
(Occurrence Number: 16-121732)
ATTACHMENT: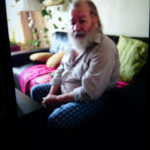 (Click to view full size)