On Friday 2nd December 2016 approximately 11:42pm Saskatoon Police Service were called to respond to a Robbery ,where a firearm was brandished, at a business in the 3700 Block of Diefenbaker Drive. The two suspects fled on foot before police arrived and a K9 track proved unsuccessful, however several items stolen were recovered, along with the firearm. Cigarettes, candy and an undisclosed amount of cash were taken. No one was injured during the robbery.
Below are the descriptions of the suspects and a photograph from CCTV surveillance of suspect 1 is attached:
Suspect 1 : Male, black clothing, hood up with a face mask, black gloves.
Suspect 2: Male, dark clothing, heavy winter jacket, hood up with a face mask, black gloves armed with a firearm.
Anyone with information is asked to contact Saskatoon Police Service at 306-975-8300 or Crime Stoppers at 1-800-222-8477.
(Occurrence Number: 16-121830)
ATTACHMENT: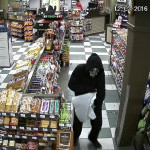 (Click to view full size)