Saskatoon Police are continuing to search for 88-year-old Philip Noonan. Police are asking residents of the Sutherland, Erindale, and Silverspring neighbourhoods to check their property.
Mr. Noonan was last seen at 10:30 a.m., December 18, 2016 walking over the bridge near Preston Crossing. He often walks in the Sutherland area but sometimes gets lost and has early onset of dementia. He is also not wearing his hearing aids.
He was last seen wearing jeans, and a green wool jacket with brown leather sleeves.
The Saskatoon Search and Rescue Team are assisting.
A picture has been attached for distribution.
Anyone with information on the whereabouts of Philip Noonan is asked to contact the Saskatoon Police Service at 306-975-8300 or Crime Stoppers at 1-800-222-8477.
(Occurrence Number: 16-127052)
ATTACHMENT: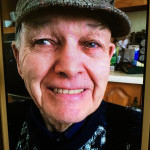 (Click to view full size)