This news release is being sent again as it was not delivered to everyone when it was sent yesterday.
-----
A second shipment of Stolen Goods: Our Favourite "Borrowed" Recipes has arrived in time for the holidays. They are available for purchase at Saskatoon Police Service headquarters for $20.00 (cash only).
Chief Weighill will present a cheque to the Saskatoon Food Bank and Learning Centre for the funds raised from sales to date on December 22nd at 1:30 p.m. Following the cheque presentation, Chief Weighill will also be available for a public book signing until 2:30 p.m.
The Saskatoon Police Service wishes to thank everyone for their support of the cookbook.
ATTACHMENT: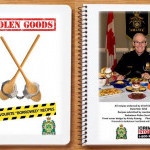 (Click to view full size)