Saskatoon Police are requesting public assistance in locating a 22-year-old man.
Kylo Kakakaway, 22, was reported missing on December 26, 2016, after he failed to return to a hospital located in the 10 block of Jersey Street in North Battleford. Further investigation showed that Mr. Kakakaway was last seen in Saskatoon at a bus depot in the 10 block of 23rd Street East. Police, family and caregivers are concerned as he may be in a vulnerable state.
Mr. Kakakaway is described as Indigenous, approximately 5'11" in height, 190 lbs with curly black hair and black eyes. He was last seen wearing a black toque, a black parka, black gloves, black pants, and black and white "Under Armour" runners.
A picture is attached for distribution.
Anyone with information on the whereabouts of Mr. Kakakaway is asked to contact Saskatoon Police at 306-975-8300 or Crime Stoppers at 1-800-222-8477.
(Occurrence Number: 16-129545)
ATTACHMENT: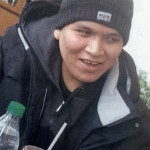 (Click to view full size)