Saskatoon Police are requesting public assistance in locating a 63-year-old man.
Brian Priest was last seen at approximately 4:00 p.m., December 27, 2016, at his place of residence in the 300 block of Cree Crescent. Police and family are concerned as he requires medication that he is not believed to be in possession of and may be in a vulnerable state.
Mr. Priest is described as Caucasian, 6'6" in height, 230 lbs with a medium build and fair complexion. He has short whitish/reddish/brown hair, blue eyes and is right-handed. He does not have any lower teeth, and due to medical conditions, may appear shaky and have impaired mobility. A clothing description was not available.
A picture has been attached for distribution.
Anyone with information on the whereabouts of Brian Priest is asked to contact Saskatoon Police at 306-975-8300 or Crime Stoppers at 1-800-222-8477.
(Occurrence Number: 16-130190)
ATTACHMENT: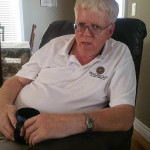 (Click to view full size)