The Saskatoon Police Service is requesting the public's assistance in locating 14 year old, Shaniel Littlewolfe.
Shaniel was last seen on November 8, 2017 in the 200 block of Avenue L North. She is described as 5'6" tall and 110lbs. Shaniel has shoulder-length, brown hair and brown eyes and usually wears dark coloured clothing. She is missing from her residence in the 1600 block of Avenue D North.
Anyone with information that could assist in locating Shaniel Littlewolfe is asked to conctact the Saskatoon Police Service at 306-975-8300 or Crime Stoppers at 1-800-222-8477.
(Occurrence Number: 17-118223)
ATTACHMENT: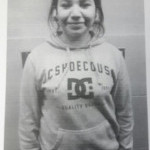 (Click to view full size)