On December 25, 2017 at approximately 1:15 a.m. a 37 year old man and 26 year old female were stopped in a vehicle in Diefenbaker Park. The driver of the vehicle provided a false name and was arrested for obstruction. It was later learned the man had warrants for his arrest for breaching his probation. The officers found a shot gun round in the man's possession.
A search of the vehicle uncovered several weapons including a shot gun and a rifle, both were sawed off. There was several rounds of ammunition for the shotgun. There were 2 bats, 1 expandable baton, bear spray, a flail with chain attached, a cattle prod and two homemade pipes which were wrapped with black electrical tape.
The 26 year old female will be charged with 16 firearms charges, and 9 weapon dangerous charges. The 37 year old man will be charged with obstruction, breach of probation , 16 firearms charges and 9 weapons dangerous charges. The two individuals will be held at SPS Detention Centre until they are placed in front of the Justice of the Peace in the evening of December 25, 2017.
(Occurrence Number: 17-133192)
ATTACHMENT: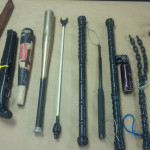 (Click to view full size)