On March 8th, 2017 members of the Combined Forces Special Enforcement Unit (CFSEU), with the assistance of the Saskatoon Police Service Tactical Support Unit arrested a 26 year old man in a parking lot in the 3100 block Laurier Drive for Possession for the Purpose of Trafficking Methamphetamine. At the time of the arrest the male was found in possession of an ounce of methamphetamine and 90 ml of gamma hydroxybutyrate (GHB) and a knife.
As a result of the arrest, search warrants were conducted at a residence in the 1000 block Boychuk Drive and the 400 block Kloppenburg Street. In total officers seized 967.9 grams of methamphetamine, 90 ml of GHB, 22.5 Oxycontin pills, and $1550 dollars.
The 26 year old male has been charged with Possession for the Purpose of Trafficking Methamphetamine, GHB, and Oxycontin, Possession of Property obtained by Crime not exceeding $5000 and Possession of a Weapon Dangerous to the Public. A 24 year old female located during the search warrants was also arrested for Breach of Statutory Release.
CFSEU is funded by the Government of Saskatchewan through the Ministry of Justice, Corrections and Policing. CFSEU is an investigative body comprised of personnel from partner agencies from the Saskatoon Police Services, Prince Albert Police Service and Regina Police Service and the RCMP 'F' Division. The mandate of CFSEU is to expose, investigate, disrupt, dismantle and prosecute organized crime enterprises.
(Occurrence Number: 17- 13819)
ATTACHMENT: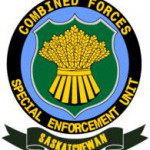 (Click to view full size)