Saskatoon Police wish to advise the public and businesses after receiving a number of reports of fraudulent bills being used.
Since late February, the Economic Crime Unit has received 15 complaints of fraudulent bills of varying denominations being used at different locations.
The fraudulent bills have been reported at locations such as gas stations and fast food restaurants where cash is frequently used in purchases.
The bills are described as being of poor quality. They feel like paper as opposed to the new polymer notes which feel almost like plastic. Another significant note of distinction marking the fraudulent bills is the inclusion of blue Chinese characters written on the bills. The Chinese writing, translated, states, "Not to be used as real currency" and "Bill to be used for counting practice". In some cases, suspects are cutting out the inside translucent portion of a real bill and replacing it in the fake bill. Close examination of the bills will immediately alert anyone to be a bill being fake.
A picture of a fraudulent $50 bill is attached for reference. The photo clearly highlights the Chinese characters.
Anyone with information on this is asked to contact the Saskatoon Police Service at 306-975-8300 or Crime Stoppers at 1-800-222-8477.
ATTACHMENT: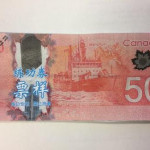 (Click to view full size)