Saskatoon Police are requesting public assistance in locating a missing nine year old girl.
Hailey Moostoos was last seen after school in the 1000 block of Northumberland Drive at approximately 3:45 p.m. March 17, 2017.
Hailey Moostoos is described as being 4'8" tall and weighing 90lbs. She has medium length black hair with shaved sides and brown eyes. She was last seen wearing a black and white striped shirt, black jacket with leopard print cuffs and pink leggings.
Anyone with information on Hailey's whereabouts is asked to contact the Saskatoon Police Service at 306-975-8300 or Crime Stoppers at 1-800-222-8477.
A photo is attached for distribution.
(Occurrence Number: 2017-25627)
ATTACHMENT: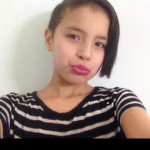 (Click to view full size)