Saskatoon Police are investigating the theft of an ATM on Christmas eve.
At approximately 7:40 a.m., December 24, 2016, two persons broke into a sports facility in the 200 block of Primrose Drive and stole the ATM. The males are observed on video surveillance removing the ATM and then loading it into a truck before leaving the scene.
The males are described as being dressed in all black clothing with hoods up. One of the suspects was carrying a crow bar and the other was pushing a trolley cart.
Attached are stills taken from video surveillance.
Anyone with information on this incident is asked to contact Saskatoon Police at 306-975-8300 or Crime Stoppers at 1-800-222-8477.
(Occurrence Number: 16-128866)
ATTACHMENT: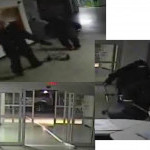 (Click to view full size)