The Saskatoon Police Service is seeking Amanda May Totchek (a.k.a. Alexa Amanda May Emerson) DOB 1985, July 14 in connection with six of eight recent incidents involving suspicious packages being sent to various local businesses, a cancer center, and a school. The two latest incidents are still under investigation.
A Canada-wide warrant has been issued for Amanda Totchek's arrest. Recent attempts by officers to locate her have been unsuccessful. She is described as 5'4" in height, 119 lbs, with long brown hair and hazel eyes. A photo is attached for distribution.
Anyone with information is asked to contact the Saskatoon Police Service at 306-975-8300 or Crime Stoppers at 1-800-222-8477.
The SPS also wishes to remind the public to be vigilant when dealing with packages that may be suspicious in nature. There is concern that the recent spate of emergency incidents involving the packages has resulted in the public ignoring the potential for harm, or becoming complacent. It is necessary to treat each incident seriously.
ATTACHMENT: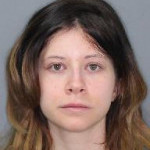 (Click to view full size)