Members of the Saskatoon Police Service Targeted Enforcement Unit continue to investigate incidents involving suspicious packages being sent to several Saskatoon businesses, the Saskatoon Cancer Center and an elementary school. As part of the same investigation they are also looking into threats involving explosive devices.
Since April 11, 2017, five Saskatoon businesses have received threatening messages suggesting an explosive device has been left in the building. A local high school was the latest recipient of a message. Members of the SPS responded to that scene today, and with assistance from staff familiar with the building, they were able to determine that there were no explosives.
Alexa Emerson, DOB, 1985, July 14, remains in custody facing charges in connection with the suspicious packages. Investigators are not searching for a second suspect. They are continuing, however, to look for a woman seen in a video sent to media outlets. The woman is not believed to be responsible for any criminal activity however investigators think she may have information relevant to the ongoing investigation. Stills of the video are attached for distribution.
Anyone with information is asked to contact the Saskatoon Police Service at 306-975-8300 or Crime Stoppers at 1-800-222-8477.
ATTACHMENT: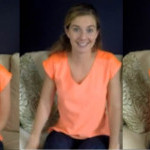 (Click to view full size)