It has been two years since Kandice Singbeil was last seen in Saskatoon. Police and the Singbeil family are again appealing to the public for information. The family has issued the statement below and are sharing photos of Kandice's children which are available through Saskatoon Police on Twitter and Facebook.
LEARNING TO HEAL
NEVER LOSING HOPE
Kandice Marie Singbeil also known as Kae from Saskatoon is STILL MISSING. She was last seen in Saskatoon in the early morning of May 25, 2015. Two long years have passed and still no news, no answers and no reasons…NOTHING!!! Where is she? Does anyone know? Somebody does.
We are one of the 125 families in Saskatchewan with a loved one missing. What a NIGHTMARE.
Her son who is now Ten years old is having to grow in a world so different from his friends and classmates. His baby sister who is now two years old will only know her mom through pictures and our memories. So very sad and unbearable at times.
September 18 we each have a cupcake with a candle to celebrate her birthday then make a wish for mom and blow out the candle. Christmas Eve Nethan and Kaestin hang an angel ornament on the tree for Mom, one for each year. These traditions are to help keep Mom in their lives. We continue our nightly prayers in hopes that God PLEASE wrap your arms around her to keep her safe and free from struggles and challenges. We LOVE her, we MISS her and we pray for answers.
A Tree of Hope in Kandice's honour will be planted at The Southwest Youth Emergency Shelter called Dorie's House in Swift Current on May 26th.
So this is our PLEA from our Family:
If anyone has any information as to what happened and to help find her
PLEASE PLEASE PLEASE come forward.
Information can be forwarded to:
Saskatoon Police Service- 306-975-8300 or
Crimestoppers- 1-800-222-8477



May 26th will mark one year since Kandice Marie Singbeil was last seen riding her distinctive "Cruiser Classic" bicycle in Saskatoon's downtown area.

The investigation into Kandices disappearance by the Saskatoon Police Service Missing Persons and Major Crime Units remains active, however officers continue to request public assistance in finding her. Her disappearance is being treated as suspicious.

To mark the anniversary and to raise awareness about the investigation the Singbeil family is planning a memorial walk on Saturday, May 28, at 7:00 p.m. The walk will begin at SPS Headquarters, travel down 3rd Avenue, and will end at River Landing with a candlelight vigil.

Kandice, known by her friends as "Kae", would now be 33 years old. She is originally from Swift Current, Saskatchewan but was living in Saskatoon at the time of her disappearance. A year ago she had dyed blonde hair cut just above the shoulders and brown eyes. She's 5'4" and weighs 166 lbs. She was last seen wearing a black jacket and dark coloured pants. She was riding a dark coloured "Supercycle Cruiser Classic" with whitewall tires and a wood grained chain guard.

Anyone with information is asked to contact the Saskatoon Police Service at 306-975-8300 or Crime Stoppers at 1-800-222-8477.
(Occurrence Number: 2015-45427)
ATTACHMENT: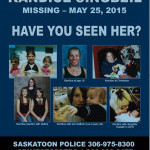 (Click to view full size)