Saskatoon Police are requesting public assistance in locating a 14-year-old male.
Connor Chase Christopherson was reported missing May 24, 2017. He was last seen at 4:30 p.m., May 23, 2017 at his home in the 3000 block of 33rd Street West.
Connor is described as Caucasian, 5'8" tall, 120lbs with a slim build. He is said to have "shaggy," dirty-blonde hair and blue eyes. Both of his ears are pierced, he has a tattoo of a cross under his right eye, and a tattoo on the inside of his right forearm. Connor is usually seen wearing grey and black clothing.
Anyone with information on the whereabouts of Connor Christopherson is asked to contact Saskatoon Police at 306-975-8300 or Crime Stoppers at 1-800-222-8477.
(Occurrence Number: 17-51126)
ATTACHMENT: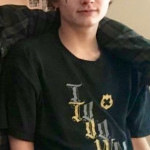 (Click to view full size)