The Saskatoon Police Service is requesting the public's assistance in locating a missing 90 year old man.
Ray Bennett was last seen at 1230 p.m. in the 100 block Tucker Cresent. He was driving a 2007 Buick Lucerne silver in color with Saskatchewan license 671-JXH.
Mr. Bennett is described as Caucasian, 5' 10" tall weighing 200 pounds, long wavy white hair and blue eyes. He was wearing a blue t-shirt, dark colored pants and black shoes. Mr. Bennett may be confused and in a vulnerable state.
Anyone with information of the whereabouts of Ray Bennett is asked to contact the Saskatoon Police at 306-975-8300 or Crime Stoppers at 1-800-222-8477.
(Occurrence Number: 2017-55184)
ATTACHMENT: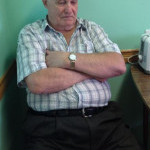 (Click to view full size)