Saskatoon Police are asking for the public's help in solving an historical murder.
On July 3, 2007 Police were called to a location near Central Avenue and Agra Road. A passerby had discovered the body of a man. The man was identified as 44 year old Paul Theodore Jacobson of Saskatoon and investigation showed that he was the victim of a homicide.
Over the last decade Major Crime investigators have interviewed many people in regard to this case, and have developed suspects. However there are additional individuals who the investigators need to speak to.
Paul Jacobson was last known to have attended a home on the 600 block of University Drive on the evening of July 1, 2007. Witness interviews indicate Jacobson arrived at the home with a female friend, who left the home shortly after arriving. Investigators have not been able to identify this woman. They are asking her to come forward, or for anyone with information relevant to this investigation to come forward.
A photo of Paul Jacobson from the same time period is attached.
Anyone with information is asked to contact the Saskatoon Police Service at 306-975-8300 or Crime Stoppers at 1-800-222-8477.
ATTACHMENT: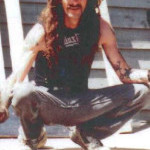 (Click to view full size)