The Saskatoon Police Service is holding its annual community barbeque tomorrow from 11 a.m. to 2 p.m. on Ontario Avenue off of 25th Street (east side of headquarters).
Police wish to remind the public of a few things;
The annual BBQ is one of the few opportunities that citizens are able to tour the headquarters. There are a limited number of spots available on a first come, first serve basis. Registration will begin at 11 a.m. at a table on the corner of 25th Street and Ontario Avenue. Tours will take place at 11:30 a.m. and 12:45 p.m. Please plan for 40-45 minutes.
The Canine demo is scheduled for 12:30 p.m.
This year's BBQ will feature a dunk tank with all proceeds going to the Law Enforcement Torch Run benefiting Special Olympics Saskatchewan.
The BBQ will only accept cash as terms of payment. A list of prices can be found on the SPS Facebook page.
The public and media are invited to come out to enjoy live entertainment and demonstrations from the SPS and other community partners.
An electronic poster is attached.
ATTACHMENT: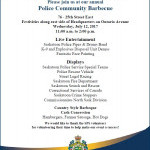 (Click to view full size)