Saskatoon Police are requesting public assistance in locating a 5 year old girl.
Alizah McLeod was reported missing on July 12, 2017. She was last seen in the care of a 21 year old female relative at approximately 7:00pm but there whereabouts are unknown at this time. Both were last seen in the 2200 block of 17th Street West riding bikes.
Alizah is described as Indigenous, 3'6" tall, 50lbs, hazel eyes and has sandy brown hair. She was last seen wearing a pink shirt with a happy face on the front and pink pants.
Anyone with information on the whereabouts of Alizah McLeod is asked to contact Saskatoon Police at 306-975-8300 or Crime Stoppers at 1-800-222-8477.
ATTACHMENT: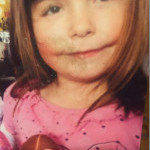 (Click to view full size)