Police are continuing their investigation in to a theft that occurred early Sunday morning. Just before 6:30 AM a lone male entered an establishment at 8th St and Acadia Dr. The suspect engaged the employee in a discussion about lottery tickets and then grabbed as many as he could and fled out the door to a waiting vehicle. As the suspect left the business, he dropped a pair of scissors that he had been carrying. No one was injured.
The suspect is described as an indigenous male in his 40's, short in statue with a light mustache. He was wearing a black neck-warmer around his head and had on a black and brown winter jacket. (Photo attached). The vehicle the suspect got into is described as a blue truck.
Anyone with information related to this incident is asked to call the Saskatoon Police Service at 306-975-8300 or Saskatoon CrimeStoppers at 1-800-222-8477.
(Occurrence Number: 17-7610)
ATTACHMENT: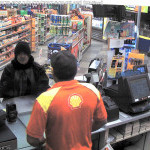 (Click to view full size)