Saskatoon Police are requesting public assistance in locating 80-year-old Andrew "Elmer" Chandler.
At approximately 3:00 p.m., August 2, 2017, Police received a missing persons report for Mr. Chandler who was last seen at 2:00 p.m. today in a 2015 grey Dodge Caravan parked underground at Midtown Plaza. Mr. Chandler may be in operation of the Dodge Caravan, he is not familiar with the city of Saskatoon and it is believed he suffers from early onset dementia. Police, family and caregivers are concerned for his welfare.
Mr. Chandler is described as a Metis male, dark skin tone, 5'8" in height, 160 lbs with a medium build. He has short grey hair, brown eyes and wears glasses. He was last seen wearing a cowboy style long sleeve shirt, blue jeans, cowboy boots and a baseball cap. A picture is attached for distribution.
Anyone with information on the whereabouts of Elmer Chandler is asked to contact Saskatoon Police at 306-975-8300 or Crime Stoppers at 1-800-222-8477.
(Occurrence Number: 2017-80240)
ATTACHMENT: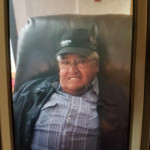 (Click to view full size)