Members of law enforcement agencies will be raising money this weekend in hopes they will be set free from a scaffold in the middle of a parking lot.
Free Our Finest is the latest fundraising effort organized by members of the Law Enforcement Torch Run (LETR) for Special Olympics. Members from the SPS, RCMP, Correctional Service Canada, Saskatchewan Corrections and Policing, the Saskatchewan Sheriff's Office, and Conservation Officers with the Ministry of the Environment.
The event is scheduled for August 19-20 in the shopping centre parking lot at 1706 Preston Avenue.
Media inquiries can be directed to Special Olympics Saskatchewan at 306-780-9406.
ATTACHMENT: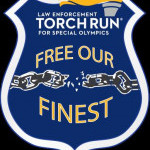 (Click to view full size)