Working With Seniors
Serving Older Adults with Respect in an Emergency
Members of the media are invited to the launch a new training video aimed at enhancing community safety and service for older adults.
The "Working with Seniors" video was a collaborative creation between the Saskatoon Police Service, Saskatoon Fire Department and Saskatoon Council On Aging (SCOA). All Saskatoon Firefighters and Police officers will soon be viewing and gaining imperative knowledge on older adults through this video.
Through consultations with SCOA and their counterparts, a collaborative video has been created to educate Police officers and Firefighters about the unique care and compassion older adults in our city deserve. The video features local residents who will be recognized at the launch.
Training Video Screening
Wednesday, August 30, 2017
1:30 – 4:00 p.m.
(Red carpet arrivals at 1:30 – formal program at 2:00 p.m.)
114 Armistice Way, Preston Park Retirement Residence
ATTACHMENT: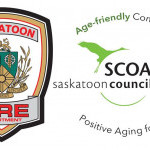 (Click to view full size)