The Saskatoon Police Service is proud to again support Cops for Cancer in their participation at the Saskatoon Blades game on Saturday, October 28th. The theme for the night is "Stick It to Cancer".
The Saskatoon Blades are supporting the Cops for Cancer program and donating a portion of ticket sales through a special "Cops4Cancer" promo code. More details can be found on the attached poster.
Cops for Cancer will also have a table set up at the game and accepting donations.
All proceeds raised by Cops for Cancer will be donated to the Saskatoon Cancer Centre.
For further information, please visit saskatoonblades.com.
ATTACHMENT: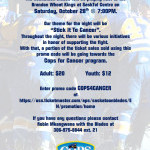 (Click to view full size)