The Saskatoon Police Service has a seen an increase of break-ins to apartment buildings where mailboxes have been the target and as such have some safety tips.
Pick-up your mail daily.
Watch for suspicious activity and report it immediately to the Police.
Direct mail that may contain credit cards or identity cards to be delivered to a post office which will require a signature for pick-up.
During one such break-in on February 12, 2018, at 11:45 p.m., a male and female suspect where caught on video committing this type of crime. The Police are asking for the public's assistance in identifying them. Their images are attached.
If you have any information about the identify of these two suspects or know who is responsible for other apartment break-ins please contact the Police at 306-975-8300 or anonymously contact Crime Stoppers at 1-800-222-8477.
(Occurrence Number: 18-15333)
ATTACHMENT: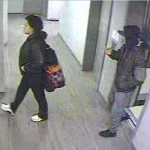 (Click to view full size)