The Saskatoon Police Service is asking for your assistance in locating Andrew Paul Chatsis - DOB: April 1, 1988. Chatsis is wanted in connection with aggravated assault against an 11 month old child that occurred on April 5, 2018 in the 100 block of Avenue U South.
Chatsis is 30 years old with black hair and brown eyes. He is 6' tall with a slim build and has a scar above his left eyebrow and a scar on his left forearm. He often goes by Andrew Cuthand.
Anyone with information on Andrew Chatsis (Cuthand) is asked to call the Saskatoon Police Service at 306-975-8300 or Crime Stoppers at 1-800-222-8477.
(Occurrence Number: 18-33141)
ATTACHMENT: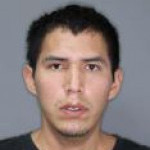 (Click to view full size)