Saskatoon Police Service are requesting the publics assistance in locating a missing person.
Paris Lavallie 69/02/27 was last seen on 7th May 2018 at 8:25 am in the 4000 block of Taylor Street East, leaving the area on his bicycle, intending to return by 4:30pm.
Since then family and friends have not seen or heard from him.
He is 5'6", 150lbs, balding gray/brown hair, blues eyes and has tattoos on his arms and upper body. A photograph of him is attached.
Anyone with information on his whereabouts is asked to contact the Saskatoon Police Service at 306-975-8300 or Crime Stoppers at 1-800-222-8477.
(Occurrence Number: 2018-48510)
ATTACHMENT: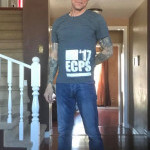 (Click to view full size)