The Saskatoon Police Service is asking for the public's assistance in locating a missing 10 year old boy.
Nolan Cook-Nabess was last seen at Mayfair School on June 28th, 2018 and did not return home after school ended. He is described as having tanned skin, 5 feet tall, 100 pounds, light brown hair, and brown eyes. He was last seen wearing grey pants with a blue stripe and a neon green shirt.
A photograph is attached for media distribution.
Anyone with knowledge of the whereabouts of Cook-Nabess is asked to contact the Saskatoon Police Service at 306-975-8300 or Crime Stoppers at 1-800-222-8477.
(Occurrence Number: 2018-67280)
ATTACHMENT: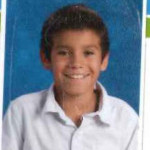 (Click to view full size)