The Saskatoon Police Service is holding its annual community BBQ today from 11:00 a.m. to 2 p.m. on Ontario Avenue off 25th Street (directly east of the Headquarters building).
Police wish to remind the public of a few things;
The annual BBQ is one of the few opportunities that the community is able to tour the headquarters. There are a limited number of spots available on a first-come, first-serve basis. Registration begins at 10:45 a.m. at a table on the corner of 25th Street and Ontario Avenue (northwest corner of the intersection). Those interested will have an opportunity to register for guided tours at 11:30 a.m. and 12:45 p.m.
The Dunk tank is returning again this year with all proceeds going to the Saskatchewan Law Enforcement Torch Run benefiting Special Olympics Saskatchewan.
Lunch is provided by Country Style BBQ and cash is the only form of payment accepted.
A list of BBQ prices and the schedule for the Dunk Tank can be found on the SPS Facebook page.
The public and media are invited to come out and enjoy live entertainment and demonstrations from the SPS Pipes & Drums Band and the Explosives Disposal Unit.
This event is dedicated to community building and raising awareness of the Police Service and other community safety partners.
ATTACHMENT: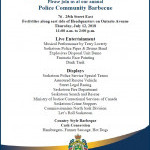 (Click to view full size)