Police are requesting public assistance in locating four individuals wanted in connection to an assault and unlawful confinement that occurred on July 24th.
Raylene Sewap DOB 1996/10/11, Kenisha Ahenakew, DOB 1994/10/07, Lindsay Okemow, DOB 1978/07/21 and Bobby Leibel, DOB 1989/05/12, are all facing charges of Aggravated Assault and Unlawful Confinement.
Warrants have been issued for their arrest.
Photos are attached and can also be found individually on the SPS Facebook page.
Anyone with information about the whereabouts of these individuals is asked to contact Saskatoon Police Service at 306-975-8300 or Crime Stoppers at 1-800-222-8477.



Saskatoon Police are investigating after a woman was unlawfully confined and physically assaulted on Tuesday morning.

At approximately 7:00 a.m., July 24, 2018, Police were notified by staff at St. Paul's Hospital that a 20-year-old woman was seeking medical treatment after being physically assaulted. Further investigation found that she had attended to a residence in the 300 block of Avenue S South shortly after midnight. She was physically assaulted and unlawfully held against her will for a number of hours before she was released. During the assault, part of the victim's finger was cut off.

Police executed a search warrant at the residence and arrested four people and seized two firearms, as well as ammunition.

A 20-year-old man is charged with; Aggravated Assault, Unlawful Confinement and Robbery.

A 45-year-old man is charged with; Careless Storage of Firearm, Unauthorized Possession of Firearm and Breach of Probation.

A 30-year-old man is charged with; Possession of Methamphetamine and Breach of Recognizance.

A 38-year-old woman is charged with; Unauthorized Possession of Firearm and Careless Storage of Firearm.

(Court Info #'s 991059666, 991059667, 991059668, 991059669).

The Guns & Gangs Unit is continuing to investigate.
(Occurrence Number: 18-77204)
ATTACHMENT: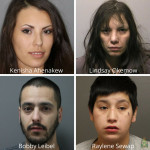 (Click to view full size)