The Saskatoon Police Service is requesting the public's assistance in locating a 12 year old girl.
Nakiesha Moosomin was last seen at approximately 8:00 a.m., January 30, 2018 at a residence in the 300 block of Pendygrasse Road in Saskatoon. Nakiesha has a slender build; she is 5'9" tall and weighs 160lbs. She has brown eyes and short, brown hair in a "pixie cut" style. A clothing description is unavailable.
Anyone with information on the location of Nakiesha Moosomin is asked to contact the Saskatoon Police Service at 306-975-8300 or Crime Stoppers at 1-800-222-8477.
(Occurrence Number: 18-10851)
ATTACHMENT: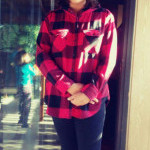 (Click to view full size)