Saskatoon Police are requesting the assistance of the public in locating a missing 12 year old female.
Kaidace Tony-Squirrel was last seen at home on October 20, 2018 at approximately 11:00 p.m.
Kaidace is described as 5'6" tall, 130 lbs, shoulder length dark brown hair with red tips, and dark eyes. She was last seen with a colourful Roots brand backpack, possibly wearing a red toque with blue trim and blue pom-pom. She is known to frequent public libraries.
Anyone with information on her whereabouts is asked to contact the Saskatoon Police Service at 306-975-8300 or Crime Stoppers at 1-800-222-8477.
(Occurrence Number: 18-111850)
ATTACHMENT: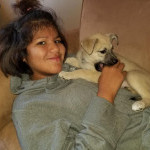 (Click to view full size)