The Saskatoon Police Service Vice Unit is visiting four businesses this afternoon, which may be operating in contravention of The Cannabis Act, the Access to Cannabis for Medical Purposes Regulations (ACMPR) and/or the Cannabis Control Act (Saskatchewan).
Members of the unit will be delivering the attached letter, notifying the non-permitted businesses they have an immediate opportunity to voluntarily comply with the legislation.
The SPS will investigate the sale of illicit cannabis in an effort to ensure the safety and security of the community while ensuring those who use cannabis for medical or recreational purposes have access to safe and legitimate sources.
ATTACHMENT: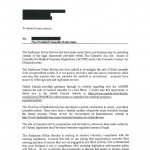 (Click to view full size)