Peacekeepers Pedaling for Aboriginal People with Diabetes
Members of the Saskatoon Police Service lead a group of cyclists on a cross-country journey to bring awareness about diabetes and its effects on the Aboriginal community.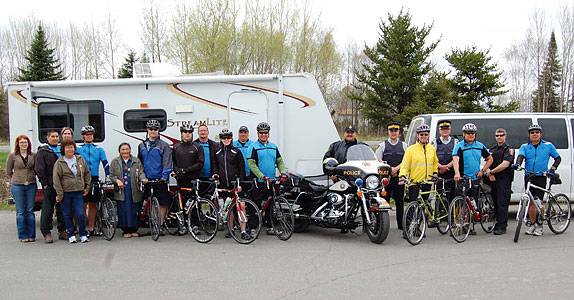 Each year the riders, supported by other police and community members, ride for two to three weeks until they reach the Atlantic coast. By spanning the country over a five-year period, the journey has taken the event to a national level.
In 2007, PPAD ended the third year of their journey at Fort William First Nation, located adjacent to Thunder Bay, Ontario. In 2008, they concluded the Thunder Bay to Ottawa stretch on Parliament Hill where they met with representatives from the Assembly of First Nations, the Federation of Saskatchewan Indian Nations, the National Aboriginal Diabetes Association, the Canadian Diabetes Association, other local Police Services and dignitaries.
Another goal of the PPAD riders is to develop and enhance community partnerships through the collaborative effort to organize and participate in the event. These partnerships exhibit what can be accomplished when people and organizations from different backgrounds come together to work toward a common goal.
When PPAD ended the third year of their journey at Fort William First Nation in 2008, members of the PPAD team attended a local Aboriginal High School where they gave presentations to students and staff on some of the causes and effects of diabetes as well as ways to prevent it or reduce its effects. Later that afternoon, the PPAD riders officially kicked-off the fourth year of their trek at Fort William First Nation.
Community members from Fort William provided a light lunch at their community center and the riders were sent on their way with traditional Anishnabae drum songs provided by the Spirit Wind Drum and Singers. The event was well covered by local print and television media.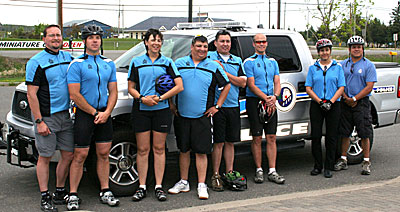 To support the PPAD riders from the Saskatoon Police Service, Cpl. Marc Bohemier, O Division Aboriginal Policing Services, Integrated Support Services Unit (ISSU) along with members of the Thunder Bay RCMP Detachment, the Thunder Bay Police Service, the Ontario Provincial Police, the Anishinabek Police Service, the Nishnawbe-Aski Nation, the Canadian Diabetes Association and Elders from Saskatchewan, participated in a 25 km bicycle ride (either by cycling or as part of a police escort) which started from Fort William First Nation.
The group rode east through the city of Thunder Bay to the Terry Fox memorial, which is located along the Trans Canada Highway #17 atop of a large rock outcropping with a spectacular view of Lake Superior and the Sleeping Giant. From this point, the core group of PPAD riders from Saskatoon continued their trek east.
The 2008 ceremony on Parliament Hill in Ottawa concluded with a traditional native drum group signing songs to honour the riders and those living with diabetes, and the day ended at the Canadian Police College where the PPAD riders, native Elders and their guests held a presentation about diabetes and their cycling journey.
Joyce Hunter - Wawatay News Online, June 28, 2007
Until the 1940s, diabetes was virtually unknown among Aboriginal people.
In recent years, Aboriginal people have been devastated by it, with incidences three to five times higher than other Canadians, said Const. Kieth Salzl, an Aboriginal liaison officer with the Saskatoon Police Service concerned with the situation.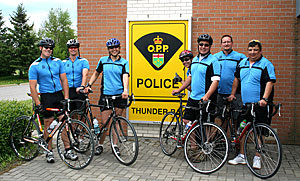 Salzl was in Thunder Bay June 4 accompanied by five other members of the group Peacekeepers Pedaling for Aboriginal People with Diabetes (PPAD) as part of a cross-country journey to bring awareness about diabetes and its effects on the Aboriginal community.
"So far the trip has been colder than in years past," Salzl said. "We've also had one of the worst days on the road and one of the best days in the three years we've been doing this."
Elders Salzl has talked with regarding his trip say it's a message.
"What I've been told by the Elders is that people have great days and they have absolutely terrible days when they are living with diabetes," he said. "The Elders I've conferred with have said the trip and its winding roads, hills, mountains, winds, rains and sunshine are representative, in a way, of the type of things diabetics have to live with as they move through life."
Since diabetes is the leading cause of adult blindness, lower limb amputation, heart disease, stroke and new kidney disease, this year's cross-country journey represents a monumental milestone for Salzl in understanding what diabetics have to live with. While he can walk away healthy at the end of his scheduled journey, diabetics cannot.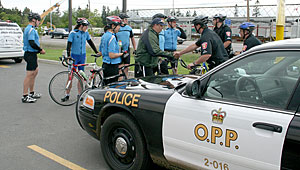 Const. Tony Nadon, who launched PPAD with Salzl in the spring of 2005 along with University of Saskatchewan Indigenous student Michael Linklater, said they have four main goals.
"We want to build trust and harmony between the Aboriginal community and various police services by working together to promote awareness about diabetes in the Aboriginal community," he said. "We are also here to support community-driven initiatives that promote diabetes awareness, promote the importance of physical activity in maintaining a healthy lifestyle and to give back to the Aboriginal community for the years of support we got from the Elders in the Saskatoon community."
In all, the PPAD has raised more than $15,000 for the Canadian Diabetes Association. It has also furthered its goals of diabetes awareness and fostering community relationships by doing school presentations and attending community events.
Their hope is to enhance partnerships between local and national organizations by increasing awareness about diabetes prevention and management, particularly among Aboriginal communities as they pass through each community on their way across the country.
Federation of Saskatchewan Indian Nations vice-chief Guy Lonechild is cycling with the group.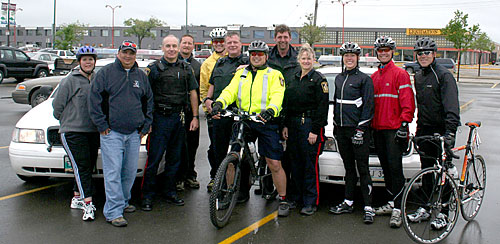 "Our communities and our struggles are very much many and our basic quality of life is increasingly shadowed by diabetes," he said. "I feel such a sense of pride that we are coming together in each community and highlighting this issue, and, at the same time, celebrating our lives through it."
Nishnawbe Aski Nation Deputy Grand Chief Alvin Fiddler thanked the riders for their initiative.
"I've looked at the numbers and the stats in our communities and know this disease is becoming an epidemic," he said. "When I heard about this initiative and the efforts to get the public look at and better understand diabetes and to encourage them to be healthy by leading by example, I am very hopeful."
With continued research combined with knowledge shared from the Elders, Fiddler is also hopeful a cure for diabetes will be found in the near future.
"May the Creator be with you and bless your efforts," he said, acknowledging the group had traveled 1,520 kilometers in a 10,000 km journey on its way to the Atlantic coast. NAN made a $500 donation to the Canadian Diabetes Association in support of their initiative.