The Saskatoon Police Service is requesting public assistance in locating a missing 23 year old male.
Hamza Alsharief has not been heard from by friends or family members since December 14th, 2011. Originally from Saudi Arabia, Alsharief is a student studying at the University of Saskatchewan. While foul play is not suspected at this time, family members say it is unusual that he has had no contact with them recently.
Alsharief is described as 5'8" in height, with a slim build, short to medium length dark brown hair, possibly with facial hair below his lower lip (soul patch). He wears a brown winter coat.
Anyone with information on the whereabouts of Hamza Alsharief is asked to contact the Saskatoon Police Service at 975-8300 or Crime Stoppers at 1-800-222-8477.
An electronic photo is attached.
(Occurrence Number: 11-120088)
ATTACHMENT: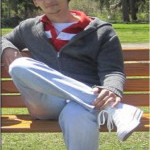 (Click to view full size)