Investigators are continuing to ask for assistance from the public and downtown businesses in locating 32-year-old Kandice Singbeil. Kandice was last seen riding her bike in the 200 block of 3rd Avenue South at approximately 8:00 a.m., May 25, 2015.
Police have spoken to a number of family and friends as part of the investigation and all have expressed concern for her wellbeing as they have not heard from her since she was reported missing. There is also concern due to Kandice's involvement in a high-risk lifestyle.
Investigators are requesting assistance from the downtown business community to notify Police if they have any street or alley view security footage from the morning of May 25-27 that may aid in the investigation.
Kandice is described as Caucasian, 5'4" in height, 166 lbs, with shoulder-length brown and blonde hair, and brown eyes. Her lower lip is pierced and she wears glasses. Her bicycle is very distinctive and is described as a dark coloured men's "Supercycle Cruiser Classic" with whitewall tires and a faux-wood grain chain guard.
A photo of Kandice and the bicycle she was last seen riding are attached for media distribution.
Anyone with information on the whereabouts of Kandice Singbeil is asked to contact Saskatoon Police at 306-975-8300 or Crime Stoppers at 1-800-222-8477.
(Occurrence Number: 15-45427)
ATTACHMENT: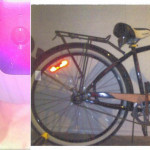 (Click to view full size)